With the wide application of ball mill, there are more and more types of ball mill for sale on the market every day, among which energy-saving ball mill is the best seller. This is because the government and many enterprises have to promote the green production policy. Therefore, in the purchase of the ball mill, more and more enterprises are considering about the production efficiency of the equipment. At the same time, they also priority to the energy saving effect of the ball mill, so energy saving ball mill is becoming more and more popular, which has formed a professional perspective, in addition to the energy saving function, it also has other obvious advantages than the traditional ball mill.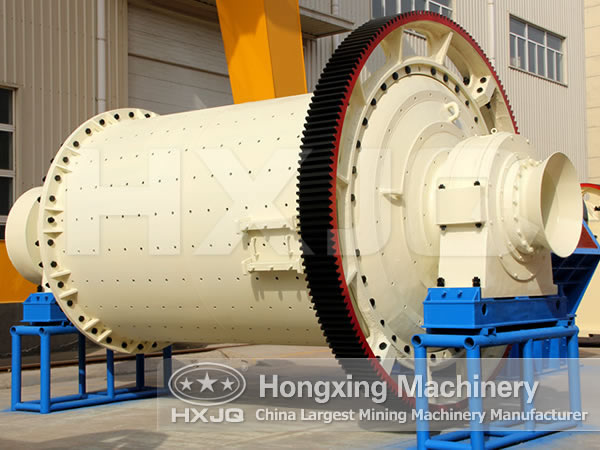 Energy saving ball mill has changed the structure of the original ball mill, so that the body and chassis are integrated. During the installation, it can be suspended on the basis of one-time level. Energy saving ball mill is made up of feeding part, discharging part, rotary part, transmission part (reducer, small gear, motors, electrical control) and other major parts. Hollow shaft adopts steel castings, and the liner is detachable; the slewing gear is hobbing with casting; the cylinder body is equipped with wear-resistant liner, which has good resistance to wear. The machine runs smoothly with reliable operation performance. Its main bearing adopts double row self-aligning spherical roller bearings, which can reduce energy consumption by 30%. The original lattice type forced discharging into easy flow control the discharge, which can increase the grinding granularity and the capacity can be increased to 15-20%. The following are the characteristics of Hongxing energy-saving ball mill:
1. Energy saving: bush bearing is replaced by rolling bearing, so the friction force is reduced greatly; it has easy starting, and the power consumption is saved by 10-15% than the old ball mill;
2. Large processing capacity: due to the adoption of the standard discharging disc and grid plate of milling machine, so the energy saving volume has been increased for more than 20%;
3. Convenient operation: due to the use of the integrated frame, it is convenient for construction and installation of the equipment in the operation fields.
Hongxing Machinery has been engaged in the research and development of energy-saving ball mill for many years, which can produce ceramic ball mill, cone ball mill and other ball mill equipment with complete models. We have won more than 10 advanced patent certificate of mining equipment industry, which plays the leading role in domestic milling machine production enterprises. With high quality, reasonable price and perfect after-sales service, we will escort for your device and production!