The sand maker is the ideal equipment for sand making and building stones reshaping. The high efficiency impact crusher can be used to manufacture ideal dinas and concrete aggregate. As for building stones reshaping, the high efficiency impact crusher ensures that clients get high quality crushed stone with good shape. The sand maker is manufactured with advanced world standard. It features high performance and low consumption. It is irreplaceable among all the fine crushing equipment.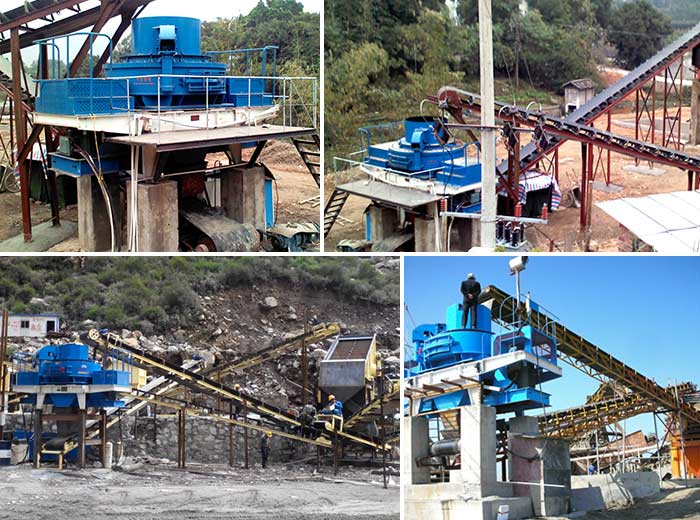 VSI sand maker is a new type sand making machine manufactured by Hongxing Machinery according to the market demand. Compared with traditional sand maker, it can save more energy, have higher anti-pressure strength and higher processing efficiency and the final products are even in granularity. It adopts hydraulic device so that it is easier to realize automatic production.
Sand making machine is the equipment which makes sand artificially. It can be used together with impact crusher or cone crusher according to the material condition and production requirement. Sand making impact crusher (VSI crusher) is applicable for various coarse, medium and fine materials such as all kinds of rocks, refractory materials, cement clinker, quartzite, iron ore, concrete aggregate. It is the best mechanical equipment for aggregate for high-class highway pavement and construction of hydropower facilities.
Merits and Features of Sand Maker
1. The high efficiency crushing, coarse grinding function.
2. Structure is simple to install, easy maintenance, low running costs.
3. By the moisture content of materials by non-broken material capacity, impact, moisture content of up to 8%.
4. Excellent product shape, cubic shape, low flakiness content suitable for aggregate shaping, artificial sand and aggregate production of high-grade highways.
5. Bulk density, minimal iron contamination.