In the flotation process, the flotation reagents dosage, flotation liquid level, feeding concentration, feeding particle size and feeding flow rate all will cause metal recovery rate and concentrate grade change. At present, most flotation machine are equipped with automation control system. And which aspects adopt automatic control?
1. Electrical motor automatic control.
Generally the flotation machine has two starting modes, one is remote boot, the other is short-range boot. In the upper computer, there is a display and fault alarm control on short range, remote, bypass, thermal relay and so on. Generally speaking, this kind of automation control is only for large scaled flotation machine.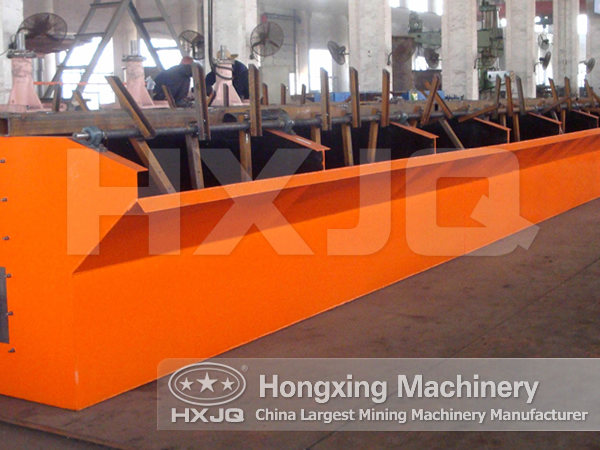 2. Liquid level automatic control.
Flotation machine liquid level automatic control system is mainly composed of flotation-dedicated liquid level measuring device, pneumatic actuators, cone valve, liquid level controller, upper computer and monitoring system. This automatic control system can control the whole flotation process and can realize an automatic adjustment on inflating volume and the liquid level of multicell flotation operation.
3. Inflating volume automatic control.
Flotation machine mainly makes use of smart film pressure transmitter and thermal mass flowmeter to detect the pressure and flow rate respectively, and input the detection values into the control system, so as to achieve the purpose of controlling both the inflating volume and flow rate.
4. Automatic glycerin-adding control system.
Automatic glycerin-adding is conducted by the touch screen in a manner of fixed quantity and time. In addition, there is an alarm device for oil superior and motor faults.
5. Pneumatic actuator automatic control.
The flotation tank volume is very large, and the actuator needed by liquid level adjustment is 300 mm, and also required to be equipped with handwheel. And to make the manipulation more convenient, the handwheel has been modified into side appliance.