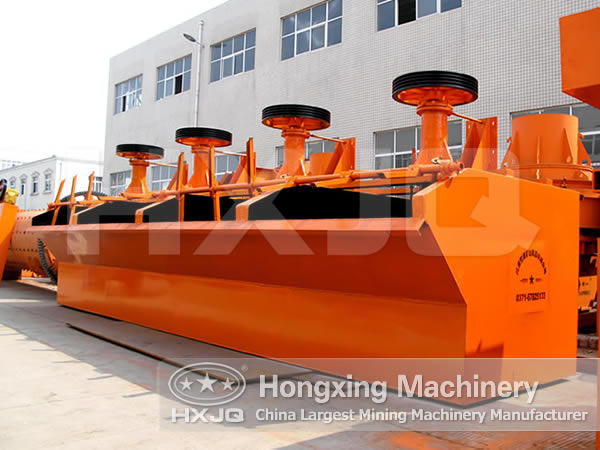 The flotation machine should be operated by professional operators. Hongxing Machinery hopes customers to visit our company and talk with our experts. Correct operation of machines can make them play their role fully and produce largest benefits with least cost.
To strengthen mixing in adjustment groove can not only improve the interaction between ore grains and agents but also shorten the pulp's adjustment time and save agent consumption. The mixing intensity of adjustment groove is determined by the rotating speed of vane. The mixing intensity will be larger if the vane has a higher rotating speed within a moderate degree. If it is too strong, the power consumption, equipment abrasion and the mud level of ores will increase, and the ore grains which are absorbed on bubbles will fall off.
The question how to choose suitable ore beneficiation equipment always confuses customers.
At the same time, the mixing time is also related to the use and nature of agents. For example, we should set a moderate period to vulcanize non-ferrous metal oxide ore with sodium sulphide. It the time is too short, the vulcanization is not enough; if too long, the sodium sulphide will lose its effect.
Things easy to ignore during the flotation machine's functioning:
1. Gas reacts to the surface of materials selectively.
2. Oxide is beneficial to the preliminary hydrophobicity of sulphide ores. But the materials will return to hydrophilia if the reaction time is too long. But if Gas adsorption condition is suitable, the ore surface will show its hydrophobic feature and even can conduct flotation separation without flotation agent.
3. When ores are crushed and show its fresh surface which will have hydration and show its hydrophilia. But if the gas is absorbed onto them to reduce its hydration and cause preliminary hydrophobicity of new surface.
The above things are easy to ignore, and we should consider problems fully in order to produce qualified products.
Customers themselves have no professional knowledge about it. They will also think the manufacturers will add some useless equipment to get more benefits if they listen to manufactures.