Ultrafine mill is a processing equipment of fine powder and ultra-fine powder, which is mainly used for grinding non inflammable and explosive material with less than grade 6 Mohs hardness. It is mainly composed of the host, analyzer, fan, micro powder cyclone separator, product cyclone separator, wind pipe, etc. With the superior characteristics, ultrafine mill has made it come out on top in the powder grinding industry.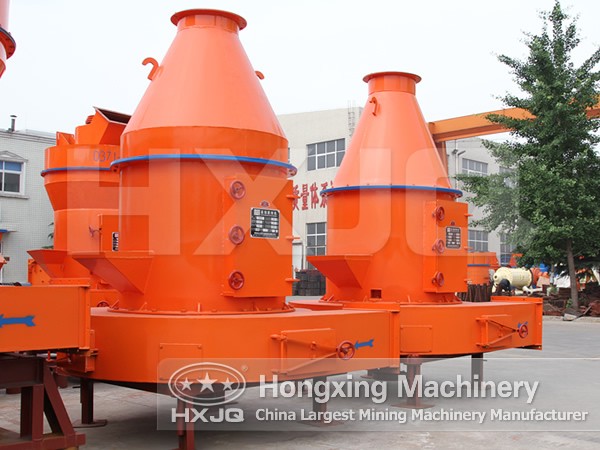 The biggest advantage lies in the use of ultrafine grinding mill is its high oiling sealing index, and the production process is not easy to get dust. In the production process, according to the wear degree of bearing, it can adjust bearing clearance to ensure the upper and lower positions of the bearing. If good bearing maintenance work has been done, the bearing can be used continuously for more than ten months, so it has a longer service life than the traditional mills. When compared with other powder grinding mills, the compressing force between the roller and materials has been improved to 800-1200Kg under the action of the spring. In the condition of same output and fineness, the energy consumption of ultrafine grinding machine is only 1/3 of the airflow mill. Although the ultrafine mill has very strong and superior performance, it cannot do without artificial carries on the maintenance and maintenance. When the grinding equipment is transported to the production site, it should be properly kept, which also needs to apply anti rust oil to avoid the sun and rain after parts of rust. With high grade cement reinforced casting, it has a good foundation, and the rectangular configuration should be based on the general size of the mill to leave out enough space. New ultrafine mill prolongs its repair cycle to improve the production efficiency in the specified operation time, which is the ideal grinding equipment which can bring considerable economic benefits for enterprises.
Hongxing Machinery is one of the large-scale joint-stock enterprises in China, which is the integration of scientific research, production and sales for crusher, grinding mill and sand production line. We can offer customers with full ranges of jaw crusher, impact crusher, cone crusher, sand production line, stone production line and all kinds of grinding equipment, such as superfine grinding mill, raw material mill, tube mill, cement mill, Raymond mill, wet grinding mill, dry grinding mill and so on. If you want to know more details, please leave us a message or send emails to us. Thank you!