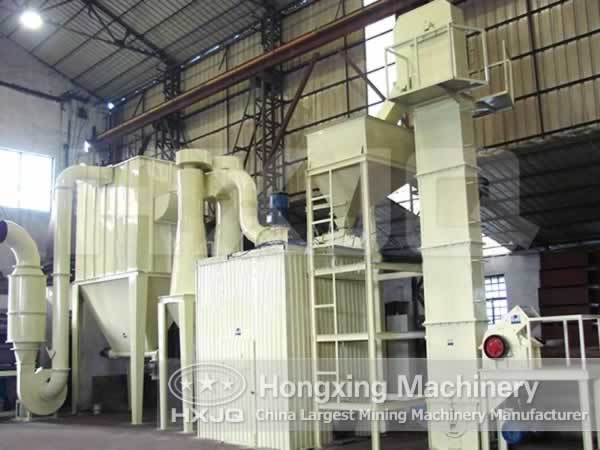 Ultrafine mill adopts the advanced structure of the similar products at home and abroad, which is developed based on Raymond mill in the same industry. It is especially suitable for the processing gypsum powder. Ultrafine mill has higher efficiency, lower power consumption and smaller occupation area and smaller investment than the ordinary milling machine. The milling roller is tightly rolled on the grinding ring under the centrifugal force, so when the grinding ring is worn to a certain thickness, it does not affect the yield and fineness of finished products. The replacement cycle of grinding ring and roller is long, , which removes the short replacement cycle problem of the wearing parts.
Ultrafine mill developed by Hongxing Machinery absorbs the advanced fineness classification technology based on years of production experience. It has solved the difficult classification problem of powder materials, which is applies to the grinding of mineral materials in metallurgical industry, building materials industry, chemical industry and mining industry. Ultrafine mill can grind quartz, feldspar, calcite, talc, barite, fluorite, rare earth, marble, ceramic, alumina slag, grain slag, cement clinker, activated carbon, dolomite, granite, fly ash, bituminous coal, coking coal, clay, high territory, coke, coal gangue, bentonite, gypsum, graphite, silicon carbide, insulation, non flammable and non explosive materials with 9 grade Mohs hardness and lee than 6% processing humidity.
Henan Hongxing Mining Machinery Co., Ltd. is one of the large-scale mining equipment manufacturers in Zhengzhou, which is integrated with production, sales, design and installation. We have high quality grinding equipment for sale, which presents outstanding performance in energy saving, high yield, low energy consumption aspects in China. Hongxing Machinery continuously promotes the innovation of processing technology. We have the experienced and skilled after-sales service team to provide dedicated service and professional solutions for customers. Welcome to visit us!