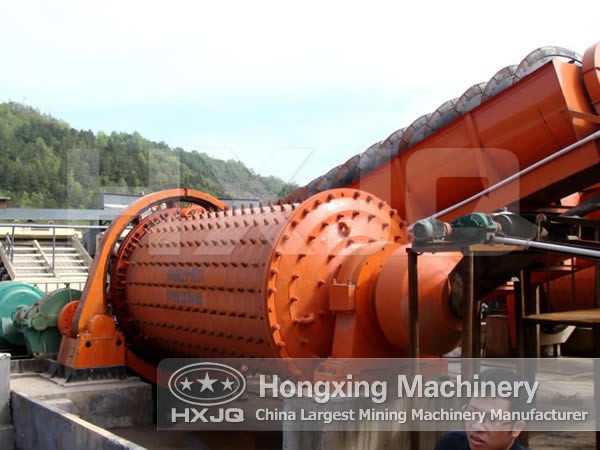 The aim of materials grinding with ball mill is to control its granularity, and the suitable grinding of materials is the key procedure in the effective ore beneficiation process. There are some loose crushing media in the ball mill, and they move freely in the ball mill to crush ores. The crushing media can be steel rod, steel ball or hard ores, or ores themselves in some circumstances. During the grinding process, the materials with a granularity of 5-200mm can be crushed into 10-300 micrometer. All ores have suitable grinding granularity. The insufficient grinding will produce coarse ores and not suitable for ore beneficiation. Thus its recycling rate and concentration ratio is not high. But the over grinding will waste precious resources. For example, during the processing of gold, the beneficiation is effective to ores with big granularity.
The main signs of ball mill working quality are productivity and granularity of final products. So under a certain grinding fineness, the operation difference will have a direct influence on productivity. The ball mill productivity can be shown in the following aspects:
1. The ore number processed per hour.
2. The final products quantity within a certain granularity per hour.
3. The superficial area generated per hour.
In order to compare with different ball mills, we can transfer the number above into volume of a certain grinding machine. During experiment, the discharging intensity should be high, the overflow concentration of classifier should be kept stable and the fluctuation should be narrow, so we need to measure them regularly in order to regulate them timely. We can take small feeding at first, and increase it gradually at the same time of observing the circulating load change in classifier until the required circulating load is reached.
During production, we can record the ball mill's working performance and judge its productivity and performance. Hongxing Machinery is a leading ball mill manufacturer. We can customize grinding machines with different specifications according to your specific needs. Welcome your visiting and choosing.