Hongxing designs and manufactures an advanced powder grinding production line composed by Raymond mill, bucket elevator, electro-vibrating feeder, blower, cyclone and related accessories for both wet and dry grinding systems. The purpose of the grinding line is to grind materials in the fields of building materials, mining, metallurgy and chemistry. The materials must be non-flammable and non-explosive materials such as limestone, calcite, barite, dolomite, potassium feldspar, marble, talcum, gypsum, medical stone, rock phosphate, manganese ore, iron ore, glass, ceramics, active carbon, fireproof materials, heat preservation materials, chemical materials and so on. The materials should have the Mohs' hardness less than 8... Here we show how the powder grinding line works.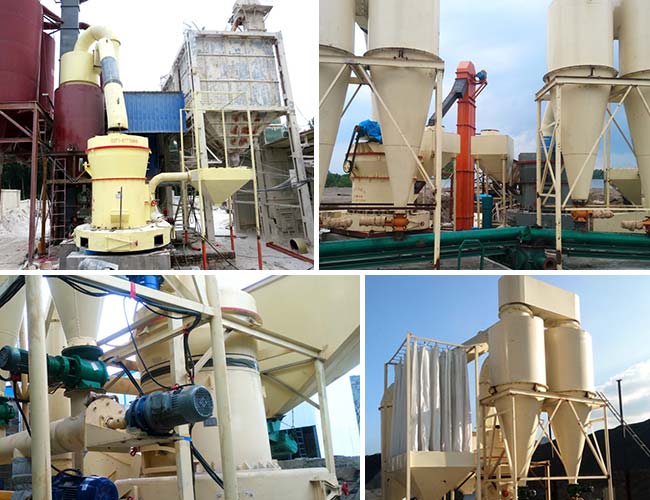 Frist, the materials enter jaw crusher to be crushed to smaller size. Then they are lifted to storage room by bucket elevator. Electro-vibrating feeder will feed materials into the grinding chamber evenly and continuously. After being grinded, the powders will be blown to cyclone by blower. Then the materials will be transferred to storage room through pipes and then discharged as final products.
Hongxing Machinery offers the best powder grinding plants which can be used to pulverize limestone, calcite, gypsum, mica, barite, coal, etc. The fineness of the finished powder can be adjusted in a wide range which depends on the main grinding mills and your desired fineness.
Hongxing Raymond mill has low investment, low energy consumption, large capacity, security and reliability, technical specifications and other advanced features.