In the construction projects, iron ore impact crusher is as important as hammer crusher. In terms of heavy crushing, iron ore impact crusher significantly promotes the first crushing rate of ores and energy utilization rate. Our iron ore impact crusher continuous improves its technical process and has made graven contributions to the development of infrastructure construction in our country.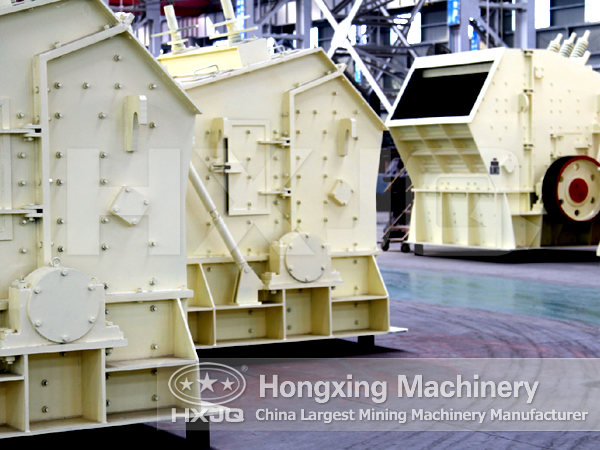 On the manufacturing techniques of iron ore impact crusher, Hongxing Machinery continuously improves the feeding port width which is an important data when choosing the specification of mining machinery. The width of the feeding port determines the maximum size of the feeding ore granularity. The maximum feeding size of iron impact crusher is determined by the dimension of the feeding mouth.
When iron ore impact crusher is working, the materials to be processed are fed from the inlet port and slide down along the sieve plate. The ores will be broken into pieces by the high-speed rotating hard alloy hammer when they are just sliding down from the sieve plate. Straight after that, the broken ores will fly to the first counterattack board at a high speed along the tangential direction and continue to be broken. The ores will be rebound back by the counterattack board and then collide with other ores. So in the first crushing cavity, ores are suffering a repeated impact force and broken. Some ores after broken to a certain size in the first crushing cavity will go through the counterattack board and the gap between the rotors, and enter into the second crushing cavity to be hit again and again. The ores will be discharged out from the throat at the bottom of the equipment.
If you want to learn more detailed information about the working principles of iron ire impact crusher, please contact with us or leave your contact information on our website. We will arrange our professional technical personnel to answer you.