As we all know, hydraulic cone crusher has a high crushing efficiency and is available for a wide range of material hardness. It can be applied to a variety of areas. Cone crusher has a wide family, including spring cone crusher, hydraulic cone crusher, Symons cone crusher, combination cone crusher and so forth. Faced with the dazzling types and models of cone crushers, our company is trying hard to improve our cone crusher's technological content and performance. And finally, the new-generation mini hydraulic cone crusher comes out successfully.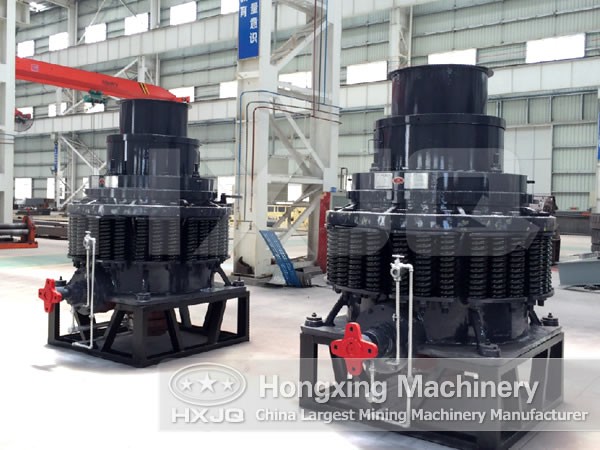 This new generation of small hydraulic cone crusher is specially researched and developed by Hongxing Machinery. It's made of progressive technology and advanced wear-resisting materials, and achieves a new breakthrough in crusher industry. What highlights does the mini hydraulic cone crusher have?
1. The hydraulic-adjusting discharging mouth.
The discharging mouth of mini hydraulic cone crusher is realized by the hydraulic motor driving the adjustment device. It uses the hydraulic-lock cylinder noose to regulate. By this way, we can fulfill the adjustment on discharging mouth and needn't arrive at the scene.
2. The solid underpan.
The newly designed underpan including the master device, electric motor, belt guard and other modules having been installed, greatly simplifies the whole installation procedures and bring great convenience to the users.
Hongxing Machinery has been committed to researching and developing more new technologies. If you want to know more about our mini hydraulic cone crusher, please visit our website to get more useful information or consult our online service, or leave us a message on the website. We will reply you as soon as possible.