Mobile cone crusher plant is competent to deal with construction waste. It has a variety of configurations. Mobile jaw crusher station, mobile impact crusher station, mobile cone crusher station and crawler mobile crushing station are very common to us and they all have outstanding performance, especially the mobile cone crushing plant.
Mobile cone crusher plant is a type of popular mobile crushing and screening equipment which is driven by the hydraulic-driven-type vehicle chassis. Its emergence fully meets the market demand. Mobile cone crushing plant is featured by its low fuel consumption, small noise, reliable performance, flexible configuration, good mobility, compact structure, convenient use and environmental protection. Mobile cone crusher plant has a strong handling capacity and good adaptability.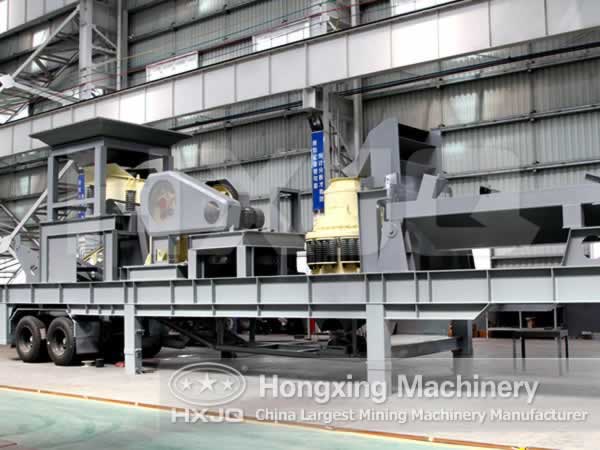 When it comes to its configuration, HXJQ mobile cone crusher station has access to spring cone crusher, Symons cone crusher, hydraulic cone crusher and compound cone crusher. Different cone crusher has different product property. Among them, the PYG series of hydraulic cone stone crusher is newly designed by Hongxing Machinery independently. It owns advanced technology, large crushing ratio and high production efficiency.
The professional HXJQ mobile crushing and screening equipment---- mobile cone crushing plant is highly praised by numerous customers in virtue of its superb performance, high reliability, nice appearance and skilful crushing performance. It has a broad application in crushing and screening operations of road and bridge construction, urban architecture, metallurgy, energy sources, chemical industry and so on.
If you want to learn more information, please contact us or visit our website and leave us a message. We will reply you as soon as possible.