Magnetic Separator is inevitable to encounter with many kinds of problems. In ore dressing process, we can not prevent the occurrence of faults, but try our best to avoid them. So what we should do is to make full preparation to prevent the common faults and make out solutions. Magnetic separator is one of the indispensable equipment in mining machinery, with a wide application range. Here we would like to introduce several common faults of magnetic separator and their causes: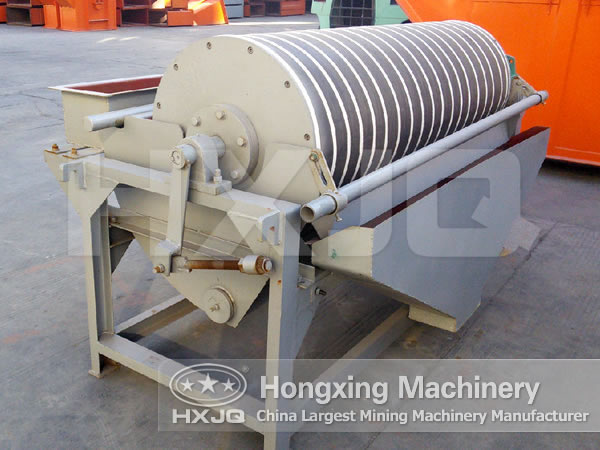 1.The magnetic is running accompanied by abnormal sound, the cylinder doesn't rotate and the bottom box vibrates.
Causes: The cylinder get stuck by something under the bottom box, or magnetic blocks fall off, causing the cylinder ring. If serious, the cylinder skin will be scratched. At this time we should shut down the equipment for maintenance and clear troubles.
2. The magnetic separator motor is overheated and abnormal sounds.
Causes: a. Bad bearing lubrication or badly abrasion; b. Fan blade fall-off or wear; c. switch circuit poor contact or line break to single phase; d. Brownouts.
3.The magnetic field becomes weaker.
Causes: a. High temperature; b. Sun exposure; c. Acid corrosion.
4.The reduction box overheats.
Causes: a. Lack of oil or poor oil quality; b. Badly wear to the gear and worm or bad engagement; c. Poor bearing lubrication or badly wear.
Hongxing Machinery is a professional manufacturer of ore dressing equipment, including ball mill , rod mill, magnetic separator, flotation machine, spiral classifier, vibrating table, spiral chute, etc. If you have any question, welcome inquiry!