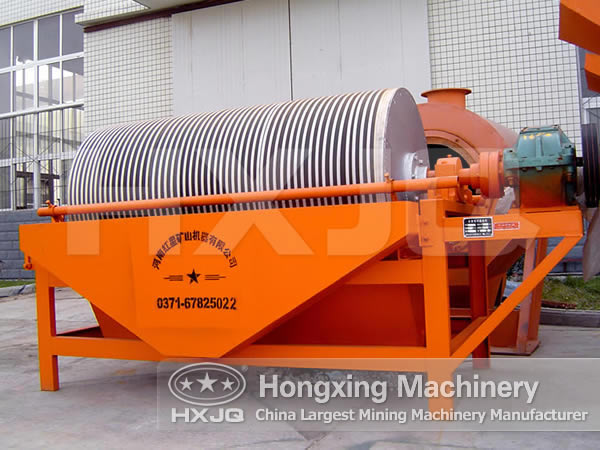 The maintenance is the basis and premise for the magnetic separator whose components inside could suffer abrasion to varying degrees. These abrasions are: the increasing gap between the components, the static and dynamic balance of the magnetic separator being damaged, the sharp reduction of the stability, reliability and productivity, and even permanent damage to some parts or the whole machine.
With the constant development of the technology and the wide use of the new methods, new materials and new process, the magnetic separator increases in the number of kinds and the structural complexity. Also the requirement for the machine's operators is higher than before. They should not only know the structure, working principle and performance of the machine and keep the operating skills in mind, but also have the ability to estimate and repair the common malfunction quickly. The operators with high-level skills could improve the utilization and perfectness ratio of the magnetic separator to a great extent, avoiding the damage caused by human, and shortening the maintenance time and cycle of the magnetic separator, thus creating more economic benefit for the company.
At average, the maintenance of the magnetic separator covers the following aspects:
1. The tyre newly installed is likely to become flexible, and needs examining often.
2. The bearings stand all the load of the machine, so good lubrication is very crucial to their service life. The bearing decides the working life and the operating rate of the machine, so the lubricating oil injected must be clean and well-seated. The main places for lubricating are: the rotating bearing, rolling bearing, all activities, live bearing and the slide plane.
3. The components likely to be worn should be paid close attention and replaced to a new one anytime.
4. Every part of the machine should be observed to see whether they can work normally or not.
5. The rising temperature of the bearing oil could be an alarm, the operator must stop the machine to have a check and find a solution.
6. If there is rushing sound when the transmitting gear works, the machine should be stopped and the problem solved.
7. The chassis plane on which the movable equipment is placed should keep out of the dust etc. for fear that the live bearing could not move and cause severe accident when the uncrushable material entered into the machine.