In successive years, Hongxing Machinery is committed to the injection of new ore dressing technology. Flotation machine, magnetic separator and other advanced equipment has been development as the time requires, which has been improved based on the original technology. Magnetic separator is different from the traditional separating equipment in the past, in recent years, our technical staff is sparing no effort to develop magnetic separator with high efficiency and energy saving separating machine. Now, let's look at the properties and structure of the new type of magnetic separator together.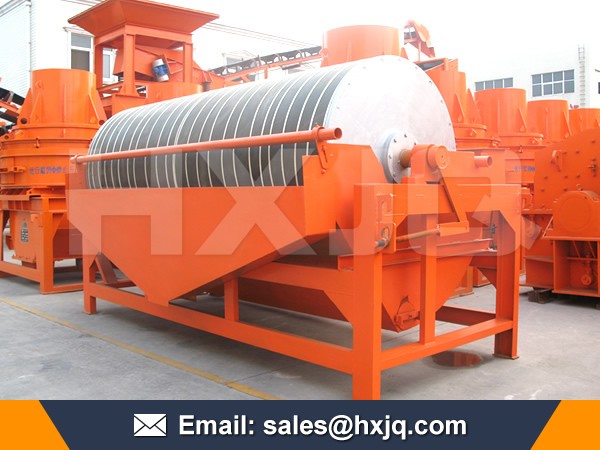 Magnetic separator is often used for the separation of wet type strong magnetic minerals with fine particles, or the removal of magnetic mineral mix in non ferromagnetic minerals. This machine is a compendium of ore succession and ore discharge, the magnetic field is deep, the task gap is large, which has high processing ability. The principle is that when the pulp enters into the magnetic field, the strongly magnetic minerals are adsorbed on the surface of the cylinder, weak magnetic and non-magnetic minerals dumped rejection, and adsorption in the strong magnetic minerals on the surface of the cylinder with cylinder tampering, then it will be taken out of the magnetic field, finally it will flush with water inrush concentrate slot to realize the sorting operations. The configured cylinder can be equipped with three types of tank, namely fair current chute (CTS), counter current slot (CTN) and semi countercurrent trough (CTD), so as to adapt to different sorting applications. The downstream trough is used for ore particle size is 0~6 mm rough election and selection. Countercurrent trough used for particle size of ore for roughing and cleaning 0~0.6mm and the recovery of heavy medium coal preparation. Semi countercurrent trough is used for the roughing cleaning of particles with size of 0~0.5 mm, especially for the selected granularity of 0~0.15 mm.
Hongxing Machinery offers free ore dressing tests for users, welcome to do beneficiation tests in our company, the company has complete test prototype, from raw material crushing, grinding, magnetic separation, gravity separation can be carried out detailed test. We produce magnetic separator, wet separator, dry separator, barrel separator and other magnetic separating equipment with reasonable price and reliable quality. We can produce corresponding products according to the different requirements of customers. In addition, our company will send technicians to guide the on-site installation and training. Welcome to contact us!