Magnetic separator is very important among ore dressing equipment. At present, the magnetic separator has unshakeable position in ore dressing line. It is a kind of indispensable ore dressing equipment in magnetic separation production line, which is suitable for the removal of iron in the reused powder materials. Magnetic separation is mainly used for processing magnetic minerals with good magnetic conductivity. The ore dressing of coarse, medium and fine iron ore has the corresponding magnetic separation equipment, and the beneficiation results can also be realized based on the actual situations of mineral processing process and different equipment designs.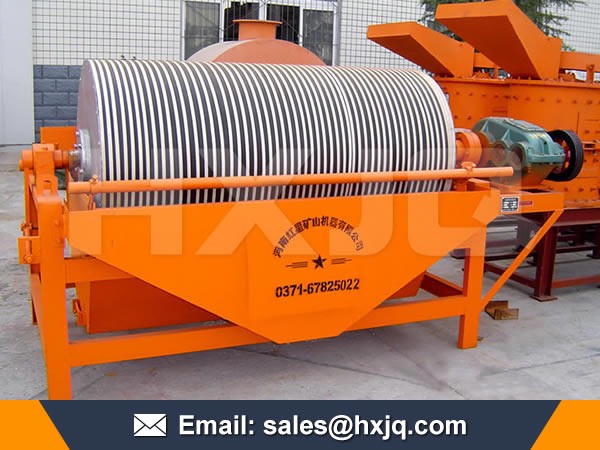 With the continuous progress of magnetic separation machine the application scope of magnetic separator becomes more and more popular. Magnetic separator is suitable for materials with magnetic difference, which is widely used for resource recovery, timber industry, mining industry, ceramics industry, chemical industry, food and other workshops. Magnetic separator is suitable for wet separating of materials with below 3mm particle size, such as magnetite, pyrrhotite, roasted ore, ilmenite and other materials. Magnetic dust is collected by dust collecting devices, which will not cause air pollution. It is a creative method with high productivity, high quality and less environmental pollution. It is also used for iron removing operation of coal, non-metallic minerals, building materials and other materials, which is one of the most extensive and high versatility devices. The magnetic separator produced by Hongxing Machinery is not only the domestic first-class ore dressing equipment, but also is popular among foreign customers.
Hongxing Machinery is located in Zhengzhou, China, which is engaged in 20 years of producing large-scale magnetic separating machines. In addition to magnetic drum separator, we also produce iron ore magnetic separator. With reasonable magnetic separator price, strict quality and top services, we have won the praise from the majority of customers.In addition, our company will send technicians to guide the on-site installation and training. Welcome to visit us!