Spiral classifier carries out mechanical grading by using the principle that different proportion of solid particles have different precipitation rate, which is widely used to form a closed cycle process to split mineral sand with ball mill in ore dressing plants. Hongxing Machinery has redesigned it by summarizing the simulated results of numerical analysis for spiral classifier structure and combining the its structural design and operation experience, which has the characteristics of simple structure, reliable work, convenient operation, etc.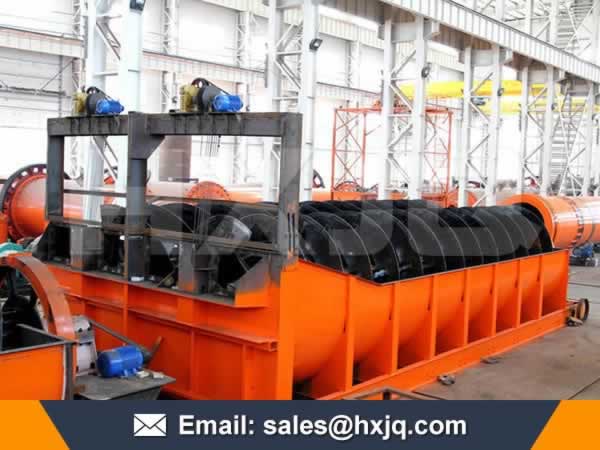 The design of 'L' shape guide vane is suitable for inertial pre classification to make the grading of material granule through the blade grooves; classification area designed by 'Z' shaped rotor blade and a 'L' shape guide vane ensures the distribution of airflow and particle grading chamber in the grading process with strong uniformity and stability; the design of a new type of backward vane dynamic air sealing device in the grader prevents the occurrence of short circuit phenomenon of particles by sealing the high-speed rotating blade in the sealing area to produce high pressure air; at the same time, the design of suspended type airflow powder feeding device is in favor of the airflow to the material impact and shear dispersion effect, which can also improve the classification efficiency of the equipment; the device mainly adopts a concave cone to make the material fully dispersed, which has created the favorable conditions for the grading operations; at the same time, due to the separation of some large hard debris, in order to avoid mechanical damage and wear, experts of Hongxing Machinery has set coarse powder cleaning device at the bottom of the feeding cylinder, which can clean the falling coarse powder and debris.
Through contrast test for reconstruction of spiral classifier, Hongxing experts found that flat rotor blade, 'Z' shape rotor blade and the 'L' shape guide vane has higher classification precision and efficiency, which can be obtained in the classification process. The use of 'L' shape guide vane can effectively improve the processing amount of classifier; the application of air seal can effectively improve the equipment run rough phenomenon; through the classification efficiency of spiral classifier the production demand can be fully satisfied.