Recently, Hongxing Machinery has developed high efficiency jaw crusher by adopting the latest crushing technology from home and abroad. It is the combination of high efficiency, low power consumption and high yield, which is developed on the basis of unique design concept to meet the actual production needs of customers. In the first crushing process, jaw crusher has become the best choice for coarse crushing operations. However, in the current market, although the traditional jaw crusher relatively mature technology, the technology is relatively backward, which has many troublesome problems such as large volume, heavy weight and low productivity. Hongxing jaw crusher has successfully solved a series of the problems.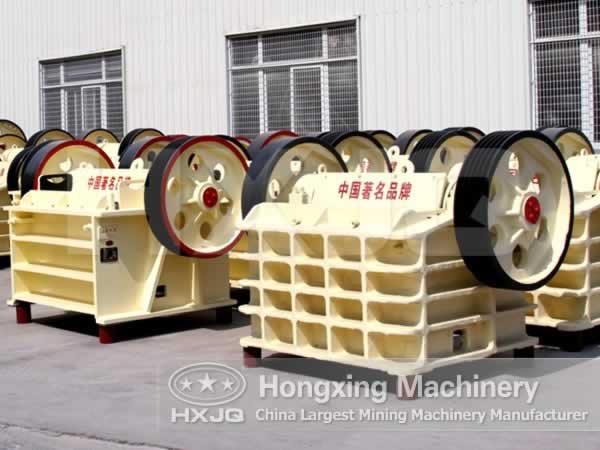 When compared with the tradition jaw crusher, Hongxing jaw crusher is most suitable for crushing all kinds of hard and soft ore which has less than 320MPa compressive strength. The maximum block size of crushed material cannot be greater than the required technical parameter. In addition, the new jaw crusher pays more attention to the optimization of the structure, which has broken up the traditional image of large and awkward jaw crushing machines.When compared with the same specification of crushing equipment, it has compact structure, small occupied area, which can present more excellent performance in the limited space. Therefore, it is widely used in various crushing processes.
As the new generation and high performance crushing equipment, Hongxing jaw crusher is far beyond the traditional jaw crusher in many aspects, such as performance, repair cost, structure and yield, which can be widely used in the crushing operations of metal and nonmetal ore, cement, sand and gravel in construction industry, metallurgy and other industries. High efficiency jaw crusher should be used for building stone and sand production process, especially for the hard material crushing operation such as basalt. When compared with the traditional crushing equipment, it has high production efficiency and low operation cost. In addition, jaw crusher is often applied in black, non-ferrous metal ore dressing process, which can effectively reduce the particle size of the ore, the increase production capacity and reduce energy consumption, so as to greatly improve the economic efficiency of ore dressing plant. We believe that high efficiency jaw crusher will become the best choice for customers in the crushing equipment field!