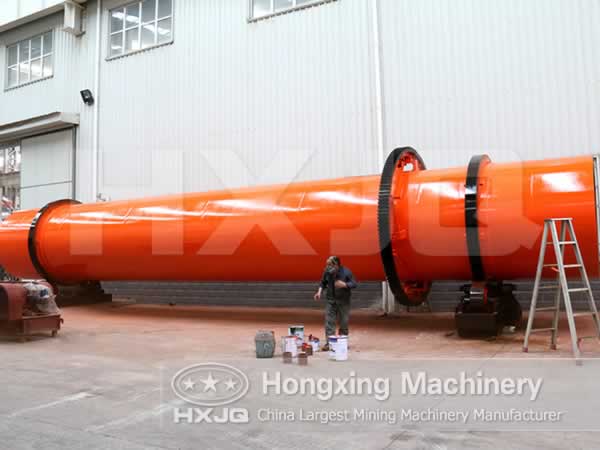 Rotary dryer and dust collector are inseparable from each other, and the dust collector plays a main role in the production process of rotary dryer. Currently, there are two kinds of dust collectors in the market: electric precipitator and bag type dust collector. These two kinds of precipitators have different characteristics in the treatment of flue gas, dust concentration, air flow, temperature and so on. Flue gas flow, dust concentration and temperature have little effect on the environmental protection requirements and dust collecting efficiency of the bag filter. Bag type collector is particularly appropriate for the enterprise which has strict selection of bag filter. It is relatively stable for the operation of electrostatic precipitator, and the cloth bag dust remover may appear paste bag and bag drop problems, they both have their advantages and disadvantages. Hongxing Machinery has carried out reforms on the dust removal effect.
1. There is a certain amount of hot and humid sulfur dioxide, the material of the filter and the inner sides of the equipment are in the form of corrosion, they must adapt with each other to ensure its long service life.
2. The flue gas temperature is less than or equal to 120 degrees in its normal operation. However, because the material has large moisture content and poor mobility, the lacking of materials in the shed bin is easier to occur, once the occurrence of the lacking problem, or when the control of exhaust temperature is not stable, the temperature of gas will soon rise.
3. The gas has high humidity. The collected dust may have large moisture and poor liquidity. In order to ensure the smooth discharge, we need to consider the elevation of ash settings, the equipment specification selection and the layout of warehouse wall vibrator.
4. It can adapt to the high moisture and high dew point. In order to ensure that it does not paste the bag, it is easy to remove the surface dust, filter material has hydrophobic layer; in order to ensure the outside dew, the shell must have good thermal insulation; in order to avoid leakage into the atmosphere caused by too much cold dew, the discharging device must provide air lock function for the better display of the equipment, the welding position should be prevented from leakage of different welding and vulnerability.