Electromagnetic vibrating feeder has broad applications, which is often used for feeding in mines, quarries and other different areas to replace artificial feeding. In the past, the artificial feeding or backward feeding equipment will easily lead to various accidents in the production process, which is not conducive to the safe production with low working efficiency. The appearance of electromagnetic vibrating feeder brings hope for the rapid development of enterprises. In order to ensure the important role of the feeding equipment in the production, firstly we must have a clear understanding of all kinds of its spare parts. Each kind of spare parts for the electromagnetic vibration feeder is very important, only by clearly understanding the role of its parts, can we accurately locate the source of the problem and then solve it.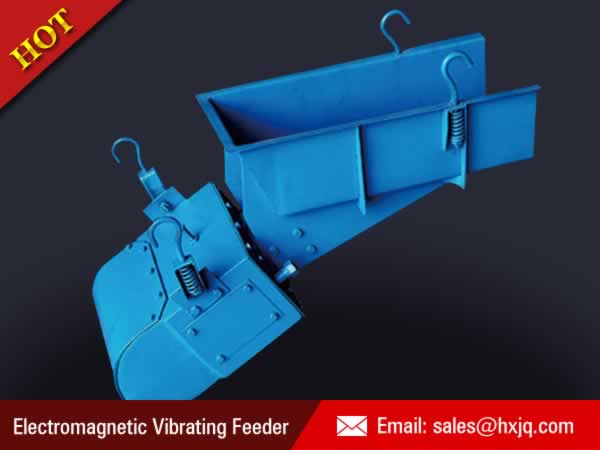 Generally, the electromagnetic vibrating feeder is mainly composed of the shell of a vibration exciter, iron core, armature, excitation coil, yoke, spring and other parts. All parts are playing different but significant roles in the operation of electromagnetic vibration feeder. Exciter shell of the feeder is mainly used to fix the plate spring and the core, which has a certain balance effect, so as to make the equipment more stable. The cooperation between the core and armature of the equipment has an incomparable role because the iron core and armature can form a magnetic circuit. There is a ring fixed on the iron core, when the equipment starts, the current will bypass, which will produce alternating magnetic field. During the installation of the feeder, a gap must be left between the iron core and armature. Vibrating feeder coil is used for the current flow of the excitation, and the coil should be delineated on the iron core. Connect the fork body and armature together for the transmission of excitation force. The main function of the main vibrating spring is to store energy and form the double mass vibration system.
The information mentioned above is a brief introduction of electromagnetic vibrating feeder. The understanding of various components in the operation of the equipment is very important for its maintenance. After the completion of the installation, it is the right operation of the vibrating feeder by operators; only the precise operation can lead to the high performance of the feeder.