Bucket sand washer is a kind of sand washing equipment which increases bucket device on the basis of common sand washer, which can play a more important role in cleaning process of sand, and which is widely used in materials washing of mining, sand plant and other industries. As an important type of sand washing machine, bucket sand washer plays a decisive role in sand making operation. In the real work, the major task of bucket sand washer is to repeatedly clean soil and other impurities in the sand until the clean sand is separated from impurities.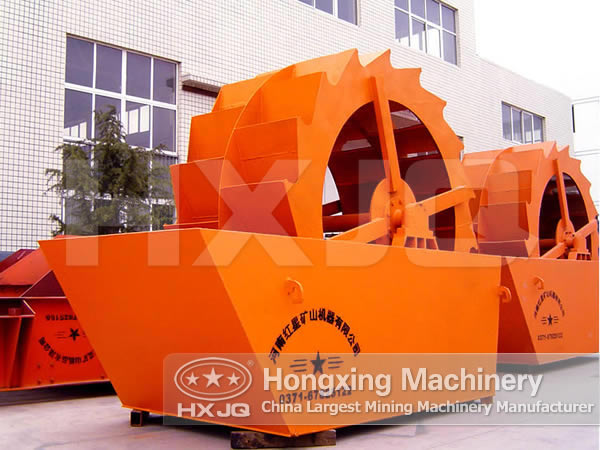 The main sand washing equipment in Hongxing Machinery is bucket sand washer, screw sand washer and common sand washer. Bucket sand washer is also called highly efficient sand washer which can coordinate with sand maker, which is developed on the basis of original sand washer and combined with actual situation of domestic and abroad sand industry. Upgrade and update of sand washing equipment shows the progress of sand washing industry. The bucket sand washer has the advantages that other mining equipment do not have.
1. Energy conservation. Part of motivation of bucket sand washer comes from flow of water, so, bucket sand washer is more energy-saving that other mechanical equipment.
2. Working process of bucket sand washer is environmentally friendly, which is completely non-pollution and highly efficient.
3. The bucket sand washer is of simple operation, which doesn't need a good deal of manpower and materials resources.
Nowadays, various mining equipment is being improved and injected into new technology continuously, sand washing equipment is no exception. Under the fierce market competition, bucket sand washer also makes some innovations on design and functions. The current bucket sand washer has such advantages as high clean degree, reasonable structure, large output and less sand loss in washing process, which is the optimal choice of domestic and abroad sand washing industry and enters the energy-saving field.