Mineral resources are the most important resources in China. Mining industry plays a vital role in social development, which provides energy and raw materials for each industrial sector in the society, and which is a tower of strength in sound development of national economy. Along with rapid development and growth of China's economy, consumption of mineral resources is very large, thus leading to increasingly exhausted situation of mineral resources. Hence, increasing reasonable exploitation and utilization of mineral resources is becoming more and more important. Mining machinery equipment has great influence on rational exploitation and utilization of mineral resources.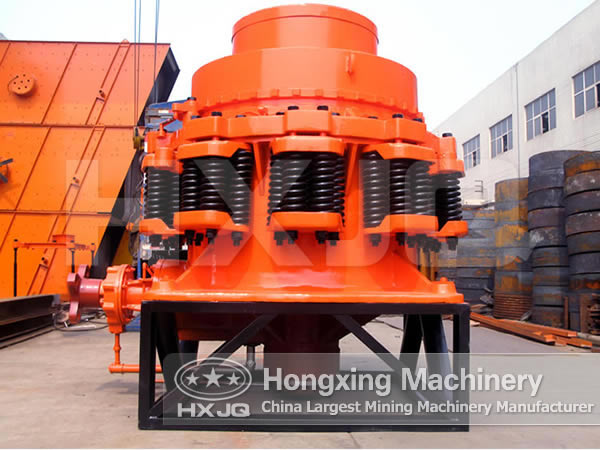 In the past, extensive mining form of mineral resources has been gradually abandoned by the society. Hence, cone crushers with backward production technology and low production capacity produced by some small enterprises will inevitably eliminated by the market. In the meantime, the government also strengthens the supervision of mining exploitation and intensifies the efforts on rectification work. Enterprises with backward production capacity and serious resource waste will be forced to shut down or restrict mining. So, the mining machinery equipment should be environmental protection, energy conservation, emission reduction and high production capacity. Cone crusher as the main equipment of mining machinery industry is bound to carry out technical innovation.
According to new crushing theory and combined with the latest technology, Hongxing Machinery has launched the new type of cone crusher which can greatly reduce energy consumption, effectively crush materials and improve utilization rate of mineral resources, thus eliminating the phenomenon of serious waste. The new type of crusher has high rotational speed, large crushing capacity, stable performance and good product granularity, which is highly praised by the customers. New type of cone crusher is developed to adapt to market demand and development of the times, which makes important contributions to reasonable exploitation and highly efficient utilization of mineral resources in China.