After hundred years of development, crusher machines have made huge contributions to mine, chemical industry, building materials, metallurgy, infrastructure construction and other industries, which greatly promotes development of national industrial economy. In the new period, crushing equipment will continuously contributes to urbanization and new rural construction. It can be said that crusher machines have taken a part in promoting national economic and social development. Under the new situations of strongly advocating to save resources and protect environment, crusher machines also rush to the front, of which the most representative crusher is mobile construction station which is born to protect environment and save resources.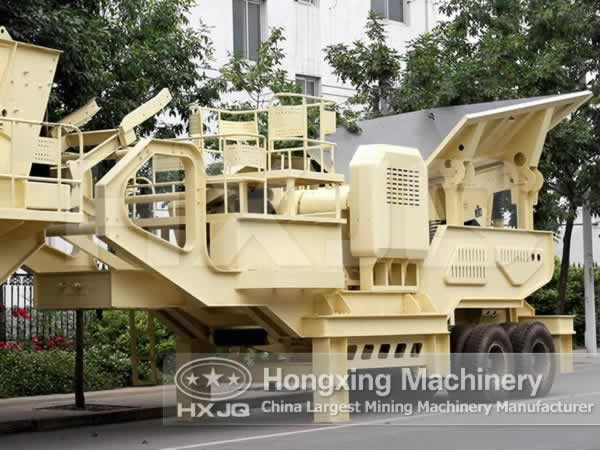 Mobile crushing station, as the name implies, is a kind of new rock crushing equipment which can move, which can integrate crusher, feeder machine, vibrating screen and so on. The mobile construction plant has such advantages as mobility, small footprint and little resource waste, which can eliminate the obstacles of crushing sites and environment to crushing operations, which is very suitable for materials crushing and processing of metallurgy, chemical industry, building materials, water conservancy and hydropower and other industries which need frequent relocation assignments. For users, mobile crushing station is not only flexible, but directly reduce materials transportation cost and production cost.
In addition, the most mentionable application of mobile crushing station is building waste disposal. Due to its features of maneuverability and flexibility, mobile crushing plant shows great advantages in building waste disposal. In the process of urban development, disposal of building waste has always been a headache problem. While emergence of mobile crusher plant well solves this problem. After being processed by mobile crushing station, building waste can be reused in steel, chemical industry, cement and sand industry, thus not only solving accumulation problem of building waste, but realizing the recycling use of resources. So, it can be said that mobile crushing station truly keeps up with the development of the times. Henan Hongxing Mining Machinery Co., Ltd. is a professional manufacturer of crushing equipment, such as jaw crusher, cone crusher, impact crusher, hammer crusher and so on, we welcome customers to visit our company.