In these years, with the improvement of national infrastructure construction, application of artificial sand is also wider increasingly. For this reason, sand making production line is also gradually popular in sand making plant. In the process of continuous development, sand making equipment has also been improved significantly, so does the technology of sand making equipment. Currently, product quality of sand making production line also has vie big improvement, which can fully meet the standard of building sand. The quality of artificial sand is higher than that of natural sand. Feeder machine is necessary equipment in sand making production line, which is mainly used to feed the materials to crushing equipment and powder making machine, thus helping crusher and grinder mill finish crushing and grinding operation of raw materials. The role of feeder machine is irreplaceable in production process.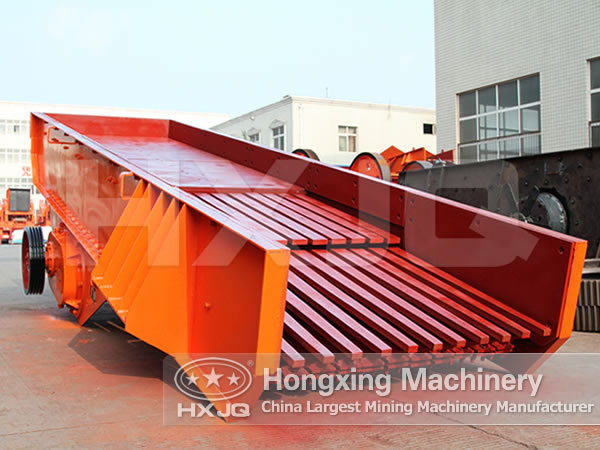 In production process, the feeder machine can evenly and continuously feed materials. Regular maintenance and upkeep of feeding equipment should be carried in a timely manner, thus avoiding unscheduled shutdown caused by sudden failure. People frequently contacting with mining industry know that the vibrating feeder may be unable to start or have too small amplitude, thus being unable to work normally. When this problem arising, we should timely solve it according to actual situation, thus ensuring normal operation of crusher and grinding mill.
The reason why feeder machine gets such a broad range of application lies in its various advantages. The vibrating feeder has no relative moving parts, so, there is almost no mechanical friction. Besides, advantages of vibrating feeder are more than that, such as no lubrication points, good sealing effect, low power consumption, etc. So, it can work under hot and humid environment. Additionally, vibrating feeder is easy to install, convenient operation, low operational cost and easy maintenance, which facilitates automation control, thus realizing automation in production process, which occupies an important and irreplaceable role in production lines.