Jaw crusher completes material crushing work by simulating the jaw movement of animals. The crushing cavity is composed of two pieces of jaw plate, the moving jaw and static jaw. Jaw crusher is of simple structure, easy manufacturing, reliable performance, and widely used in mining metallurgy, building materials, highway, railway, water conservancy and chemical industry, etc. for crushing all kinds of ores and large materials into pieces. The maximum compressive strength of the materials being processed is 320 mpa.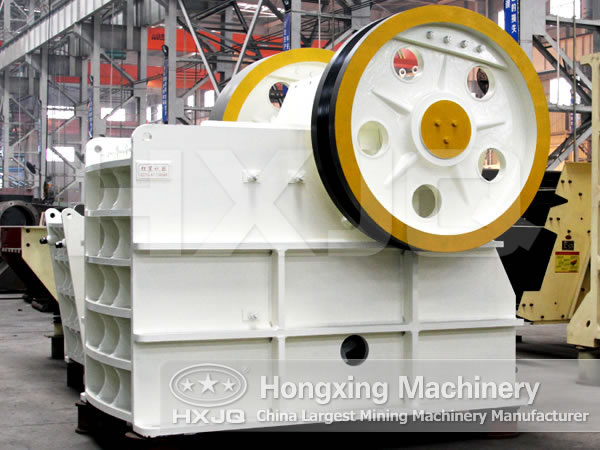 Jaw crusher is one of the most widely applied crushing equipment. As a professional crusher manufacturer, Hennan Hongxing Mining Machinery Co., Ltd. insists on constant innovating and developing, and has researched and developed a new-type jaw crusher based on the traditional ones. This new-type jaw crusher has been improved in many aspects to make up the shortcomings of the traditional jaw crusher.
Although the traditional jaw crusher has many advantages as well, the new-type jaw crusher seems to be more perfect in performance, compared with the traditional ones. This new-type jaw crusher takes in advanced technologies from Europe, such as the finite element analysis technology, the V structure of the crushing cavity, tooth shape jaw plate and so on. These advanced technologies promote the new-type jaw crusher's crushing ability and work efficiency dramatically.
The new-type jaw crusher adopts first-class raw materials, with more beautiful external appearance, more fluent line and fine workmanship. The whole cast steel structure employs bearing seat and advanced movable grip pawl, which prolong the service life of jaw crusher. In addition, compared with the traditional ones, the new-type jaw crusher is particularly suitable for highway, railway, airport runway, mining, building materials, silicate, metallurgy, chemical industry, and other fields. When crushing materials of high hardness and strong abrasion, it can achieve a superb effect that other crushers cannot reach, refreshing the crushing effect.
Hongxing Machinery has jaw crusher for sale, with reliable quality and reasonable price. if you are interested in our crushers and want to know more information about the new-type jaw crusher, please leave us a message or send emails to us, we will reply you as soon as possible!