The grinding roller of micro powder mill belongs to the wearing part, the micro pressure people may lead to fracture delamination and fatigue fracture. Only certain toughness and rather high hardness materials it uses, the grinding roller is likely to be wear resistant. Therefore, in consideration of improving the grinding roller hardness, you must pay attention to the material toughness. In order to improve the toughness of metallic materials, you can improve the anti stripping ability of the grinding roller, which can also improve the wear resistance of the grinding roller. The grinding roller material often uses chilled cast iron, which includes plain white cast iron, alloy white cast iron and high alloy white cast iron.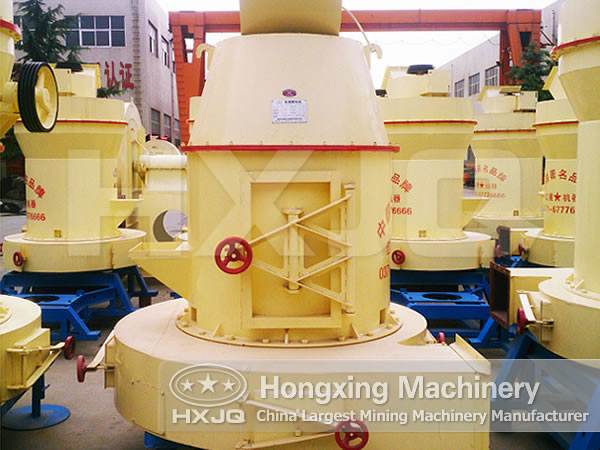 The grinding roll and ring of micro powder mill are the main moving parts used for grinding materials. When the machine is working, it can appropriately enhance the grinding effect of materials, and it can also help to improve the grinding efficiency, increase production yield, reduce the consumption of milling equipment, etc. Grinding ring can also be used to protect the cylinder, which directly protects the cylinder from friction to avoid loss. At the same time, you can adjust the different gap between grinding roller and discharging granularity to obtain the required fineness and yield. At present, Hongxing Machinery is always following the development situation of mining machinery. In the future development and development, we will use energy-saving and environment-friendly production as the focus for investment. The putting forward of this view not only provides advanced technical support, but also provides safer and more efficient production equipment, so as to improve the technology content and added value of products.
Hongxing Machinery is one of the large-scale joint-stock mining equipment enterprises in China, which is the integration of scientific research, production and sales for crusher, grinding mill and sand production line. We can offer customers with full ranges of jaw crusher, impact crusher, cone crusher, sand production line, stone production line and all kinds of grinding equipment, such as micro powder mill, ultrafine grinding mill, raw material mill, tube mill, cement mill, Raymond mill, wet grinding mill, dry grinding mill and so on. If you want to know more details, please leave us a message or send emails to us. Thank you!