The particle surface of artificial sand is rough and angular, which has high mechanical bite force, so the use of artificial sand concrete is higher than the strength of natural sand concrete. In the stone processing process, because of the fierce collision, the stone itself contains certain dust, so it will make the artificial sand contain a certain amount of stone powder and clay powder. Graded mud powder presence will seriously affect the sand. However, the stone powder is able to bridge the gap between natural sand and concrete caused by the artificial sand in concrete, water amount and poor liquidity. The stone need to go through the jaw crusher for coarse crushing, and then through the sand making machine for further crushing, finally the crushed sand obtained is in accord with the building use sand after being washed by sand washer.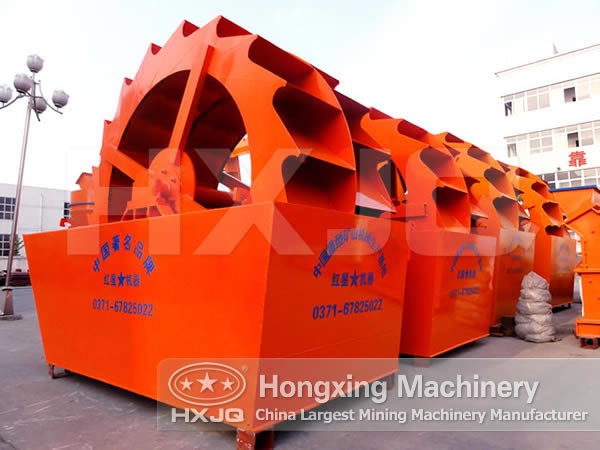 Sand washer adopts advanced technology, by combining with the actual situation of the domestic development situations of sand industry; sand washing machine has reasonable structure, high yield and high purity. It has less sand erosion, which is the best choice for domestic sand upgrading and washing industry. According to customer actual demands of scientific configuration, Hongxing Machinery has a variety of customized matching equipment, which contributes to efficient collaboration between each equipment production. The sand washing machines produced by our company include spiral sand washing machine, single spiral sand washing machine, the wheel and bucket type sand washing machine, etc. sand washing machine is widely used in sand production line. Hongxong sand washing machine is a good helper of artificial sand making, the sales of sand washing machine is climbed, which cannot be underestimated in stone production. The sand washer quality is very important, so when buying the sand washing machine, we should pay attention to the choice of brand, Hongxing Machinery can provide dedicated service for you!
Hongxing Machinery is specialized in the production of sand making equipment. with proficient processing technology, we have won the satisfaction of customers from home and abroad. Hongxing sand washing machine is the corollary equipment of sand production line, which has high cleaning degree, reasonable structure, large handling capacity, small power consumption and less sand wastage. The other GX series stone washing machine transmission parts are completely isolated with water and sand, so the failure rate is much lower than the commonly used to washing equipment at present. Hongxing sand washing machine equipment has greatly improved the production efficiency of artificial sand production line, which not only can provide qualified quality sand raw materials for the national infrastructure, but also create huge economic benefits for the gravel investors.