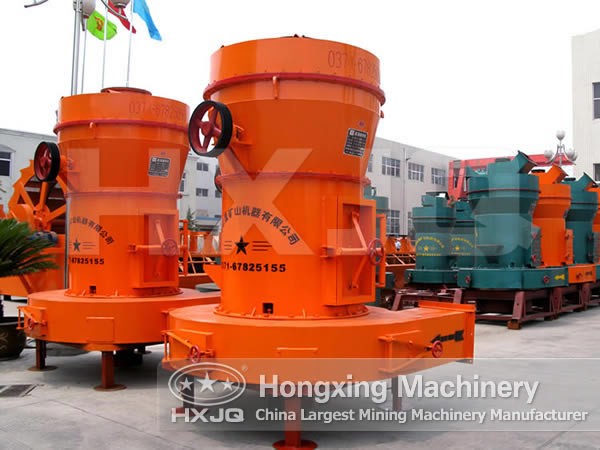 High pressure suspension grinding mill is a kind of advanced grinding mill designed on the basis of Raymond mill, which belongs to the earlier types of enhanced grinding machine. The grinding fineness of high pressure suspension mill is one of the concerns for customers. After many years of production experience, Hongxing Machinery has summed up the following points for you:
1. The hardness of raw ore.
There are many mineral species, so the hardness of different ores is not the same because they are different in structure and composition. The factor of the ore hardness is relative to the same kind of ore, in the production process, for the prerequisite requirements of beneficiation technology licensing, the grinding processing of mineral means rationally try to make the ore size uniform as well as massive ore and powder ore matching process, so as to ensure the reasonable and steady disposition.
2. The particle size of the crushing process.
In the mineral grinding processing production line, part of the grinding process, before the grinding process, there is a lot of work, the primary effect of mineral processing will be seen, which can produce certain effect to the post grinding process. So there must be a special person to view on the grinding process, if there are granularity uneven situations, he should timely adjust the crushing equipment to ensure the stability of the particle size.
3. The grinding mill itself.
The final fineness of mineral is selected by the analyzing machine inside the grinding mill. Under the normal circumstances, the material will enter into the grinding chamber after the shovel scoop up and then being extruded and crushed between the grinding roller and grinding ring. The blower will transfer air from the mill base to grinding room, the grinding material will then enters into the analysis machine, and larger particles which meet the grinding fineness requirements will enter the finished cyclone integrator with air. But because of long time work, the blade of the analyzing machine will emerge a large number of wear, which will cause the changes of grinding fineness.