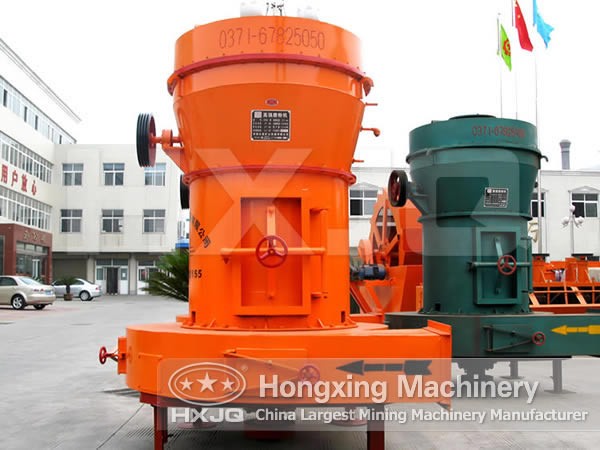 Industrial grinding machine is the important equipment for the production of industrial raw material and energy, and its efficiency will become an important part of the resources and energy conservation. The current grinding mill in mining machinery has gone through extensive development stage to rely on cheap labor advantage and the expense of the environment, which conforms to the development trend of low carbon economy. Due to the rapid development of powder making industry as well as environmental protection and energy saving requirements, the industrial grinding equipment with high technology content will bring hope for the development of low carbon grinding machine.
As the industrial grinding mill manufacturer, Hongxing Machinery has launched new kind of environment-friendly grinding mill. In its grinding zone, the material can be gathered on the grinding area for the centralized processing to improve the grinding efficiency; the internal grinding roller can revolve in the autobiography at the same time, which has high working efficiency and long durability to produce bigger grinding forces, so that materials can be fully ground to make the best use; on the basis of the whole design, the traditional two stage collection system is changed to four stage collection, the first and second collection uses circular negative pressure locked collection, which has no dust overflow, the third and fourth collection uses controllable overflow dry series collection to eliminate dust overflow. At the same time, the grinding mill is equipped with a dust collector, mill design, so that the gas flow rate increased by a wind pipe into the dust collector, so that the exhausted gas can emit to the atmosphere after being purified. So the whole system can not only collect the ultrafine powder, but also eliminate or reduce the pollution to the surrounding environment.
The industrial grinding mill produced by Hongxing Machinery has adopted a number of national patented technologies of grinding equipment, which has the advantages of novel design, reasonable structure, small occupied area, low power consumption, long service life, low costs of the wearing parts, high performance price ratio, etc. Welcome to make an enquiry!