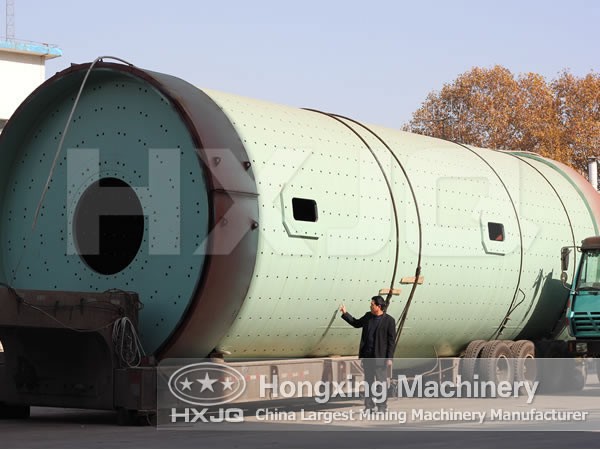 The applications of ball mill are in various fields, especially for the cement industry, the demand of ball mill is expanding. Cement mill is the key equipment for smashing materials after coarse crushing, which is suitable for dry or wet grinding of various ores and other materials. It is widely used in cement, silicate products, new building materials, refractory materials, chemical fertilizer, black and non-ferrous metals, glass ceramics and other sectors. Hongxing Machinery is professional in the development of cement mill, the product which has the advantages of simple structure, convenient installation, high efficiency and energy saving. During the cement production process, the fineness requirements of cement mill are different.
The cement strength depends on the mineral composition. To improve the fineness is mainly to improve the early strength, which has little influence on the later strength. Using the relevant ore dressing equipment to enhance the strength of cement is limited. If you continue to fine grinding, the strength will not increase, but fall. Therefore, if the cement is ground meticulously, it may consume too much energy and improve the production cost, which is not economical. The national standard shows that the ordinary cement fineness is not more than 15% (0.08 mm sieve residue), and each producing factory should generally be controlled in the range of 5%~7%.
If the raw material particles are too rough, the physical and chemical reactions are not easy to be carried out. So the chemical reaction speed is in direct proportional to the specific surface of the materials. To this point, the finer the raw material is, the better effect it will bring. But too much fine grinding will reduce the output of cement kiln calcining, and the benefit is not obvious. If the raw material contains calcinations which is difficult to the chemical substances, such as quartz, fluorite, the material is required to be ground finer, in the actual production, raw material fineness is generally be controlled in 8% ~ 10%.
Hongxing Machinery is a professional manufacturer of cement mill, whose products are exported overseas. We have complete specifications of cement, which include large cement mill, small and medium cement mill, dry lattice type cement mill, wet grid type cement mill, overflow type cement mill, etc. The cement mill produced by Hongxing Machinery is in accordance with international production standards, which has favorable price and quality assurance. Customers are welcomed to call us!