Sand making equipment provides powerful equipment support for the national construction projects and Hongxing new type of sand maker brings brand new sand making experience for customers. Hongxing new type of sand making machine is manufactured by adopting international advanced sand making principle and combining with the concept of low carbon, environment protection, green and energy conservation, making it the highly efficient and high end sand making equipment which can create tangible economic benefits for customers.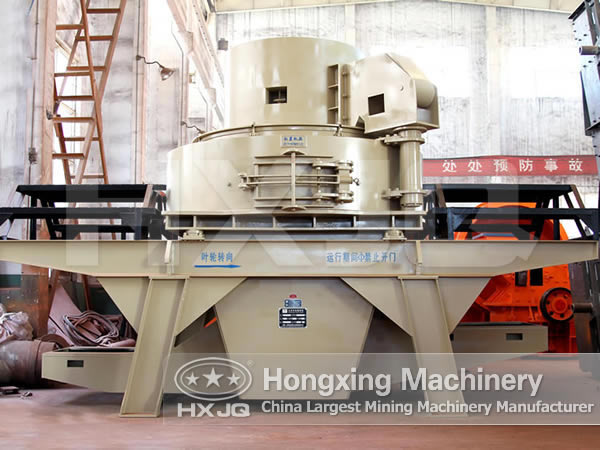 Sand making equipment is the core of the whole sand making production line which is mainly composed of jaw crusher, vibrating feeder, sand maker, impact crusher, belt conveyor and sand washer. All the machines are connected by belt conveyor. Large-sized stone materials are crushed by jaw crusher and impact crusher and then screened by vibrating screen to see whether the materials satisfy the feeding requirement of sand making machine. If so, the materials will be sent by belt conveyor to sand maker for making sand, and if not, the materials will be returned to crusher equipment for cyclic crushing until reaching the granularity of the final products. The sand produced by Hongxing new type of sand maker has such advantages as even granularity, adjustable fineness, high production capacity and low sand returning amount. In addition, it can protect the environment and save more energy.
In the whole sand making production line, sand maker is in a crucial position responsible for crushing all the raw materials to fine particles. For this reason, wise selection of sand making machine will laid a good foundation for the sand making production line whose efficiency will certainly improve. To improve the efficiency of the sand making machine needs mutual adaptation and cooperation of all levels of crushing and sand making equipment as well as the coordination of technical parameters and perfection of equipment configuration.
Hongxing new type of sand maker can run rapidly and has such advantages as simple structure, convenient installation and maintenance and low running cost. With the increase of inertia force, the fluency of this product will be very high. The rare of the third generation of sand maker is opened with maintenance and observation door for the convenience of maintenance and observation of the running condition of the equipment. So the design of this machine is more humanized and can better satisfy different needs of the customers.