Rotary drum dryer is the device that is used to heat and dry the materials. Rotary drying machine is generally applicable to granular materials and it can be also used for the drying of some part of sticky pasty materials or the materials with high water content. Rotary dryers are commonly used to dry sand, slag, slime and so on. What is more, the drying machine is one of the drying apparatus typically used in the cement plants, namely, cement rotating dryer.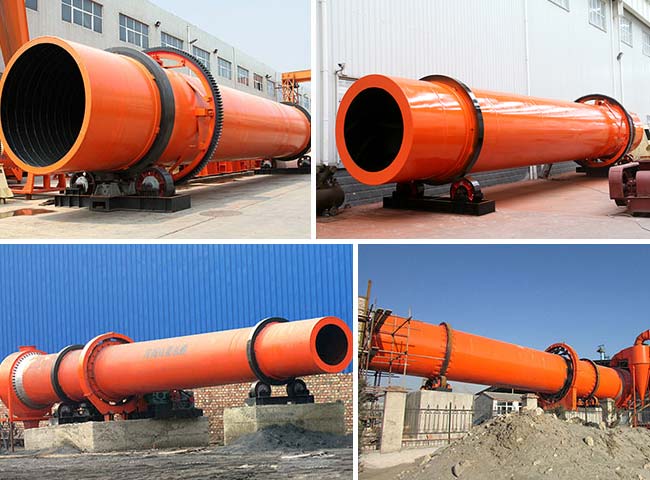 In the industry of mineral processing, building materials, metallurgy, chemical industry and other departments, rotary dryer is mainly used for the drying of the materials with certain humidity or granularity. The adaptability of materials is strong and the rotary drying machine can be used to dry various materials. In addition, the equipment is simple and reliable. Thus, it is widely used.
Features
1. High degree of mechanization, large production capacity and the continuous operation can be achieved.
2. Structure is excellent and simple, material moves smoothly through the barrel resistance and it is easy to operate.
3. Less failure, low maintenance costs, low power consumption.
4. Wide application range and good uniformity of the dry products.
In the rotary dryer, according to the differences of materials and the flow direction of the hot gas, there are two types of operation way: cocurrent and countercurrent. When selecting the operation way, cocurrent or countercurrent, the operators should take overall consideration based on the characteristics of the material, particle size, the requirements of the final moisture of the materials as well as the plant layout etc. In the cement plant, both the two methods of operation have been put into use and the majority adopt cocurrent method.
Working Principle
The sleeve sets structure that rotary dryer adopts can shorten the length of the drying machine doubly. The significant reduction of the radiating surface results in that the heat consumption decreases, while the double heat exchange surface greatly improves the thermal efficiency. As for the materials that can not touch smoke, the multi-drums dryer machine provides inner smoke pipe and the annular pipe in the inner and outer cylinders respectively. Each smoke pipe connects with the flue and the same energy-efficiency will be obtained.