Summary of Cement Rotating Dryer
The cement rotating dryer is mainly used for drying material with a certain degree of moisture and granularity in concentrating, construction, and metallurgy and chemical plant. With the strong adaptability, broad applications and simple operation, this drying machine is widely used.
Performance Characteristic of Cement Rotating Dryer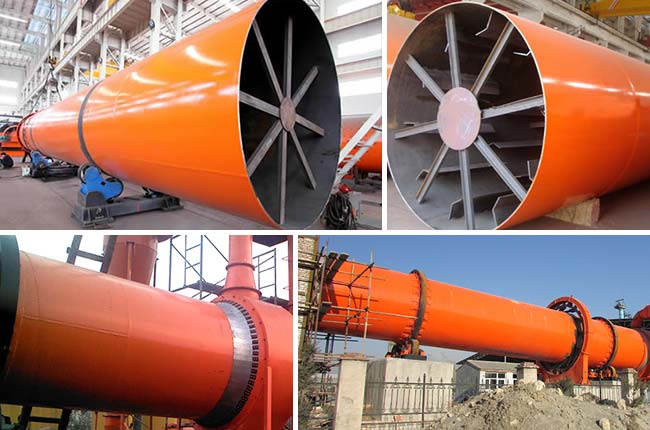 This drying machine mainly consists of rotary body, lifting blade, transmission device, supporting device, seals and other components. The cement rotating dryer produced by Henan Hongxing Mining Machinery Co., Ltd. uses the new type dryer lifting plate device, which has the functions of guiding, flowing, lifting and so on. It is able to make the material evenly distribute on the radial cross section of the drying machine and make the feed screen in the state of thin, uniform and full, so the material can contact with the hot gas stream completely, achieving the purpose of fully utilizing the thermal energy. The drying machine produced by Hongxing Machinery uses the reasonable operating parameters. Generally speaking, the coal consumption and electric consumption can be reduced more than 10% to 15%, the output of each dryer can be improved more than 10% to 15% per hour, so this drying machine has been widely used in the cement and mineral processing enterprises.
Working Principle of Cement Rotating Dryer
The heat source of the cement rotating dryer comes from the combustion apparatus. This dryer uses the heating method of concurrent, so when it works, the material will be put into the barrel from the flow box, that is to say, the material will be pull back by the spiral lifting plate. Owing to the inclined placed of the drying machine, on the one hand, under the forces of gravity and rotary, the material will flow back; on the other hand, the material will be repeated kicked up by the lifting board, raising to the top and then continuing to lift and down, so that the material in the barrel will form a uniform curtain and do the heat exchange with the hot gas stream in the barrel completely. Owing to the repeatedly lifting and down, the water in the material was drying gradually, so as to achieve the purpose of drying.