Concentrator (high efficiency concentrator) is generally comprised of the concentration tank, drag davit, gearing, lifting device, feeding device, discharging device and signal safety devices.
The main working features of the concentrator (high efficiency concentrator) is to add a certain amount of flocculant in the slurry to be concentrated to make the mineral particles form into the floc and accelerate their settling velocity, thus achieving the purpose of improving enrichment efficiency.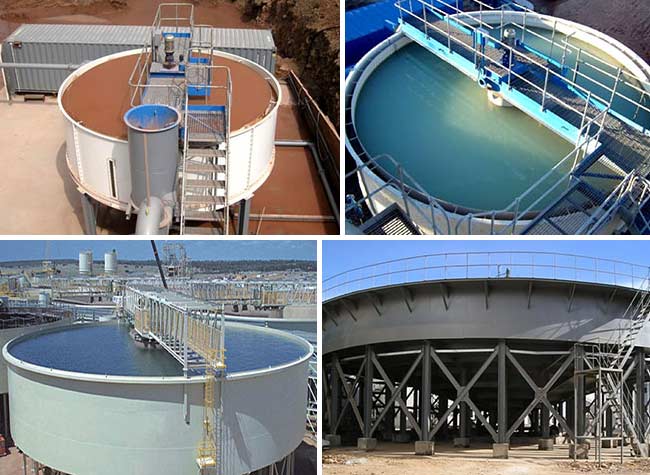 Features
1. Adding the flocculantto increase the particle size of the sedimentation solid particles so as to speed up the settling velocity;
2. The installation of inclined plate shortens the sedimentation distance of the mineral particles and increases the size of the sedimentation;
3. Making the mud deposited layer of dense phase play the roll of flocculation, filtering, compression and improving the processing capacity;
4. It is equipped with a complete self-control facilities.
The concentrator (high efficiency concentrator) is widely used in metallurgy, mining, coal, chemicals, building materials, environmental protection departments for the processing of slime, waste water and waste residue, which is of great significance for the backwater utilization, bottom flow conveyor concentration and environmental protection.
In the operation of the wet beneficiation, the concentrate contains large amounts of water, which needs dehydration. In the grading process, in order to increase the feeding concentration of the lower section, improve the effect of sorting as well as to make it more suitable for the process flow, it is also necessary for the middlings to be dehydrated and concentrated. The pulp thickner and tailing thickner have wide application range in the mineral processing industry. The concentrator is mainly used to play the role of dehydration and concentration in the mineral processing operations and it has occupied an indispensable position in the ore benefication industry.