Hongxing spiral classifier is designed to provide the most effective pool area and overflow velocity requirements. By combining the proper submergence of the spiral with one of the tank designs a choice of 63 combinations is possible in straight, modified or full flare tank designs. The proper combination of pool depth, area and spiral construction is important to secure a controlled turbulence in the slurry flow for accurate size separation.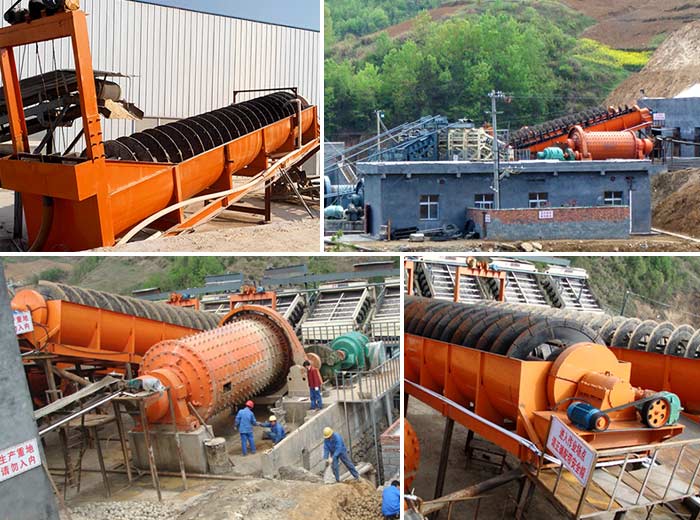 This spiral classifier or screw classifier is widely used with a ball mill to classify mineral sand, or classify ore sand and fine silt in gravity mill. It is also applied in classifying granularities in mineral separation, or desliming and dewatering in ore washing, and our spiral classifier price is reasonable and our products are in high quality among China spiral classifiers.
Maintenance of Spiral Classifier
The spiral classifier is mainly composed of actuating device, screw body, cell body, elevator mechanism, support part and valve gate. Because the gasket of classifier always contacts the ore, it is easy to fray the gasket of classifier. If there is obvious attrition on the gasket, it is better to change it at once. What's more, it is necessary to change all the machine oil of reducer after a whole load operation within a week. And then change the machine oil per half year. At the same time, it is better to check the height of the oil and add the oil in time.
Working Principle of Spiral Separator
Erect the spiral chute, calibrate the perpendicular line and fix it in a proper position with iron structure or wood. Send the mineral sand with the sand pump to the two feeding mouth on the top of the spiral chute, add make-up water to adjust the density of the ore pulp, and the ore pulp will naturally rotationally flow down and produce an inertial centrifugal force in the rotary slant flow. The gravity and the centrifugal force will separate the ores and sand according to the proportion, granularity and shape of the ore sand, and the ore concentrate will flow into the concentrate funnel and be discharged with the pipe and the tailings will flow to the tailing funnel and be discharged to the sand tank with the pipe and drained by the sand pump to complete the whole separation process.