The gravity spiral chute is one of the best ore dressing machines which combines the advantages of spiral concentrator, shaking table, spiral chute and centrifugal concentrator. It is an ideal machine for the alluvial mining on the beach, riverside, sand beach and creek road and it is widely used for the sorting of non-ferrous metals, rare metals and non-metallic ores with a specific gravity difference.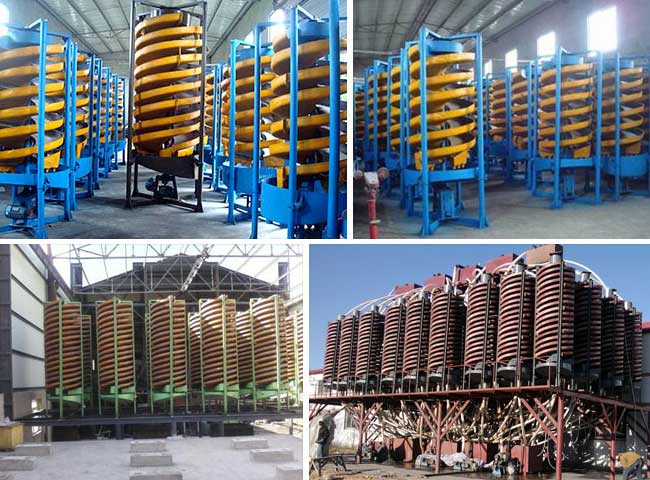 Performance Characteristics of Gravity Spiral Chute
The gravity spiral chute has the features of reasonable structure, simple installation, small footprint, easy operation, stable beneficiation, strong ore separation capacity, high efficiency, high separation enrichment ratio and high recovery rate, etc. In addition, this spiral chute also has the obvious superiorities of light weight, moisture-proof, rust-proof, corrosion resistance, strong adaptability for the fluctuation of feeding amount, concentration, particle size and grade, no noise, small investment and high benefits.
Working Principle of Gravity Spiral Chute
In the process of spiral chute separator, mineral sand is conveyed to the spiral chute by the feeding port, and to pour water to the chute at the same time can adjust the density of the mineral pulp with the features of top-down and rotary circle, which can produce the centrifugal force in the process of rotation in order to separate the materials, and that is the reason why it is also being called gravity spiral chute.