Roll crusher is suitable for the medium and fine crushing of the brittle bulk materials in the cement, chemical, electric power, mining, metallurgy, building materials, refractory materials, coal and other industries. The roller crusher can also conduct crushing of the materials whose compression strength is less than 160Mpa. The roll crusher can be also applied to the crushing of the materials with high and intermediate hardness in the industry of metallurgy, building materials, refractories and other industrial sectors.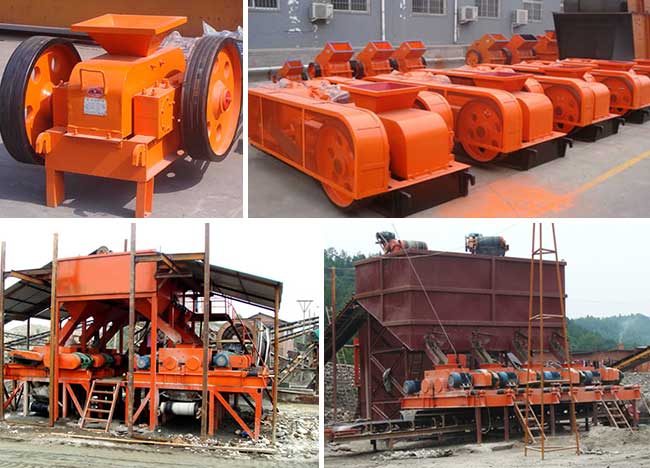 The roll crusher is comprised of the rack, a pair of rollers, V-belt driving device and spring safety device. Two motors rotate driven by the pulley, which drives two rollers to rotate in opposite rotation. A roller shaft stands on the fixed bearing that is connected with the rack, and the other roller axis on the movable bearing. The movable bearing can move along the rack rails to enlarge the width of discharge opening between the two rollers when necessary to discharge the non-broken materials.
Roll Crusher Types
The majoy types of roll crusher are toothed roll crusher and double roll crusher. Depending on the requirements, the rolls are smooth(double roll crusher) or toothed(toothed roll crusher). When rocks, ore, and other materials pass between the two crushing rollers, they are crushed or ground into smaller pieces. Capacity range of roller crusher is from 5 - 110 t/h; the end product shows little oversize grain and fines percentage.
How to Choose Suitable Roller Crushers?
When choosing a roll crusher, buyers must first consider the total capacity of the unit. It's also important to consider the hardness or abrasiveness of the materials that will be processed, as well as their size. Buyers must also find a unit that can process materials down to the required size, as not all roll crushers can crush materials into very small sizes..
Features
1. Lower energy consumption in the crushing process.
2. Small degree of over crushing and the particles size is cube.
3. Simple structure, reliable operation, easy maintenance and repair and low cost.
4. The granularity is adjustable.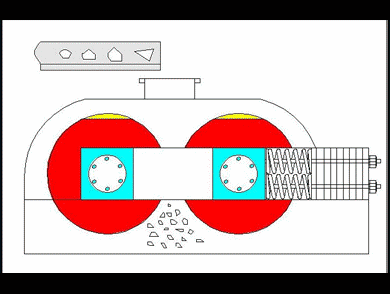 The teeth roll crusher should not be put in the place where is not ventilated an rust easily for a long term. When the double roll crusher is in operation, the machine will generate the non-uniform force. In order to withstand this kind of non-uniform force better, the operator can try to place batten under the chassis to make the whole machine fits with the strips of batten. The number of the batten and general cross-section can be found on the layout of the roll crusher and the operator can also choose the batten suitably based on the specific circumstances of the installation.