Compound crusher, which can also be called combination crusher, is a new product used for fine crushing and primary crushing and it is efficient, energy-saving, less wear and tear. It is widely used in building material, chemical industry, metallurgy, electric power, energy and other industries for crushing brittle materials that is below medium hardness, such as limestone, cement chamotte and so on.
Performance Advantages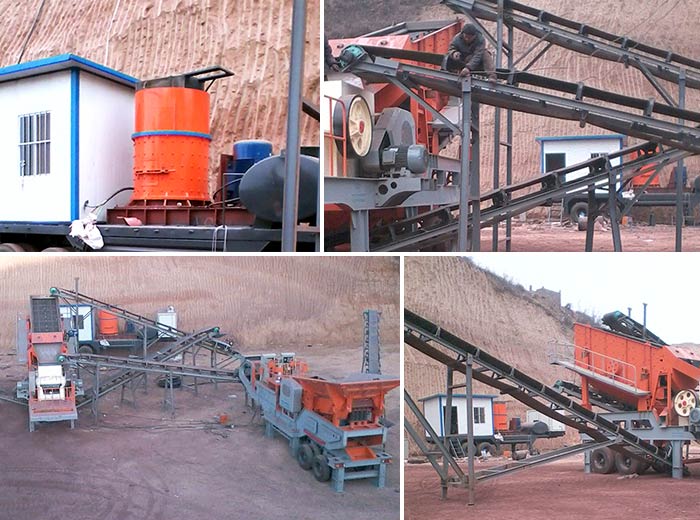 1. Simple and reasonable structure, lower running costs, less wear parts;
2. Higher crushing rate, energy-saving;
3. Has a fine crushing, coarse grinding function;
4. Environment friendly, working noise below 75 decibels (db level), less dust pollution;
5. Wide range of applications;
6. Products into cubes, larger packing density, smaller iron pollution;
7. Wear of impeller liner is small, repair is easy.
Working Principle
Massive ores fall on the material dumping plate inside the crushing chamber, and under the eccentric force, it throws the materials onto the internal wall of the cylinder, and the materials will violently hit the impact plate installed on the internal wall, and at the same time, the materials hit with each other, so that the materials will be crushed or a lot of hairline fissure will be produced. Then the materials go into cone rotor chamber and spirals down in the cone space, after impacting and squeezing, the materials with fissure will be further crushed. Due to the slope between the cone rotor and the lining plate, the small materials are pushed to move down to automatically realize classification and crushing from big size to small size. Inside the cone rotor chamber, the materials are impacted by the hammer, and the materials running with high speed will hit with the impacting plate again, and the materials will also hit with each other, thus improving the crushing efficiency.
Henan Hongxing Mining Machinery Co., Ltd. is a professional combination crusher manufacturing company, and our company mainly produces compound crusher and compound cone crusher; we have many years of production, research and development experience, and welcome the customers to purchase products. Service line: +86-0371-67833161.