The conveyor belt system can be used for horizontal transportation and slanting transportation very conveniently, so that it is widely used in all kinds of modern industrial departments, such as the under workings of mine, surface transportation system of the grass and open-pit quarry plant and ore beneficiation plant. Based on more than 30 years of experience in development, manufacture and applications know-how, Hongxing conveyor belt and conveyor belt system are designed to meet specific end-user requirements for high performance and cost-efficiency.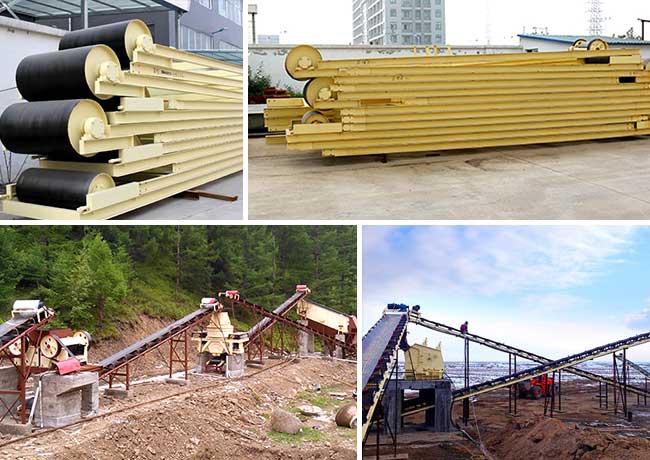 Hongxing convery belt systems have proven themselves capable of handling bulk solids ranging from dusty chemicals to large pieces of ore. In general, these systems have high resistance to abrasion and corrosion versus other methods of transportation. Conveying capacities have no physical limit and are constrained by only available materials and cost considerations. Our expertise in engineering these systems extends from the Link-Belt era to today's designs incorporating the latest CAD applications. We can optimize your systems to meet your plant's requirements while minimizing costs.
Convey belt is mainly made up of the racks, belts, rollers, tensioning means and the drive means. In the process of conveying, the material can be put on the belt, which can be conveyed from one end to the other end by the force device. Convey belt can help to form one conveying process from the origin feeding place to the discharging place, which can convey the scattering material and the finished products. This machine also can form one flow process line with the rhyme according to the requirement on the craftsmanship of various mining industries except for the pure conveying materials.
Belt conveyor produced by our company has the following advantages: large transportation amount, simple structure, convenient maintenance, standard components and so on. It is widely used in mining, metallurgy, coal and other departments in order to transport loose materials and finished products. Based on the transmission process requirements, all kinds of transmission methods are available to meet the needs of different operation lines.